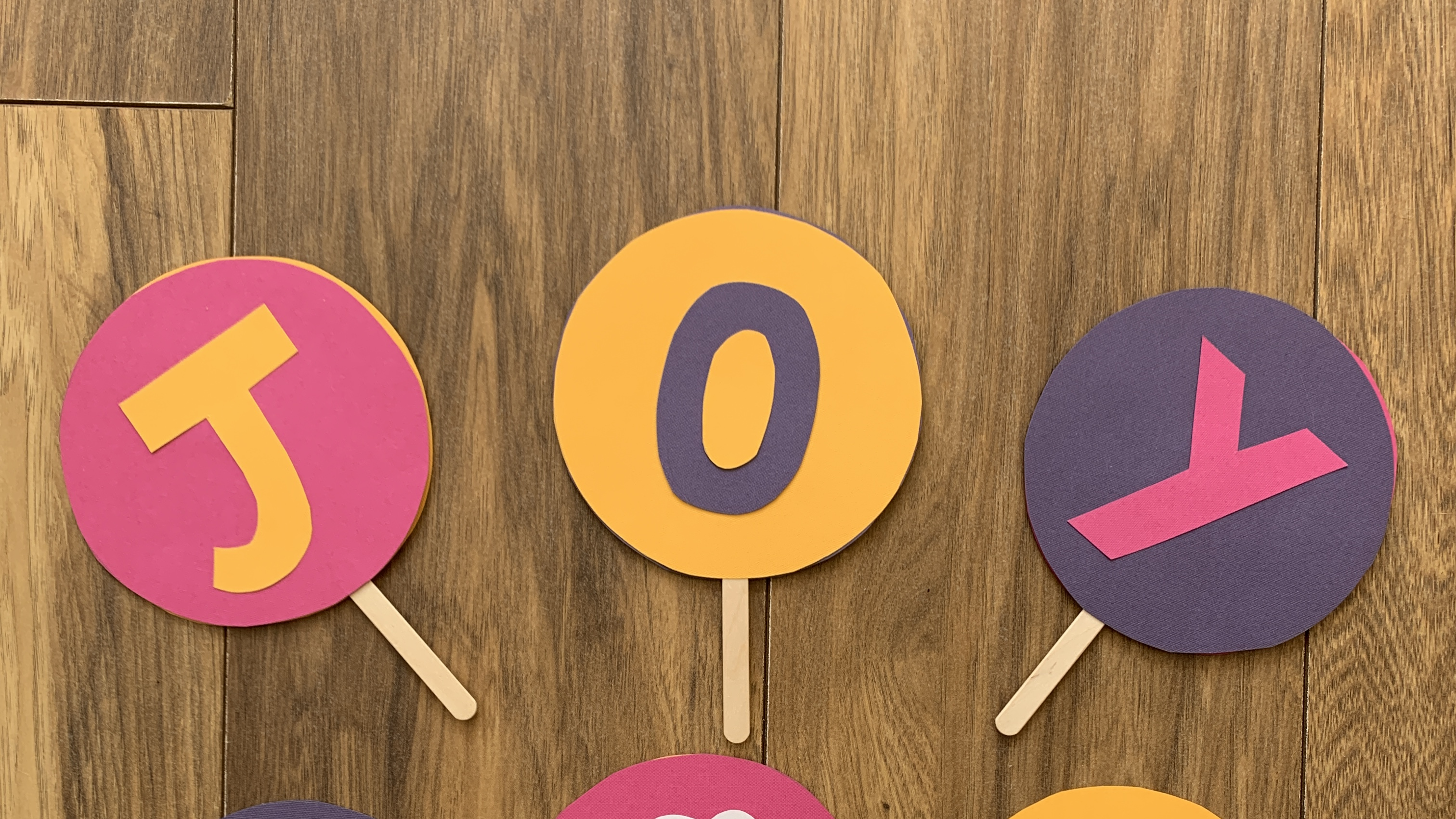 Cheer up your 'distanced' family and friends with a J-O-Y-F-U-L show!
One of our best-loved songs is J-O-Y-F-U-L, it's full of fun, it's catchy and it puts a smile on everyone's face. And, let's face it, any chance to bring a bit of joy in these uncertain times is a win. Grandparents, cousins or friends will love to hear you and your family 'perform' this song for them, and with these silly props your performance can have extra character and giggles. In this craft, you and your family will make 6 signs, with a letter from the word 'joyful' on one side and a face on the other. The challenge is to dole out the signs, then spin them round to spell out the word in the correct order during the chorus. Test your spelling power, co-ordination and musicality, and if it all goes wrong then all the better! This little activity is sure to get some laughs from the audience and the performers themselves!
You will need:
The song J-O-Y-F-U-L
Paper
Scissors
Glue
Sellotape
Lollipop sticks (or pencils if you don't have any)
Pens
A phone or tablet to record the show or call the audience
1. Cut out 12 circles, then draw 6 eyes and 6 mouths and the letters JOYFUL.
2. Make the funny faces on 6 of the circles, then tape the lollipop sticks to the back.
3. Glue the letters to the other side of the 6 faces on sticks.
4. Practice singing the song and holding up the letters at the right time! Do as many funny dance moves as you can when the faces are showing for the rest of the song.
5. Use Zoom or WhatsApp to call family or friends and perform the song! Or you could record it as a short video and send it over to them as a surprise.
Click here for Same Boat Music @ HOME for lots more family devotional resources
Same Boat Music is part of the Out of the Ark family, who's award-winning songs have been enjoyed by millions of children in over 18,000 schools for 30 years. We believe in the power of songs to inspire faith, celebration and what it truly means to live life to the full.
Packed full of truth, celebration and hope, these all age worship songs are identity-forming, community-growing, wonder-inspiring and undeniably catchy! Perfect for childrens worship and family worship. Read more about us here.