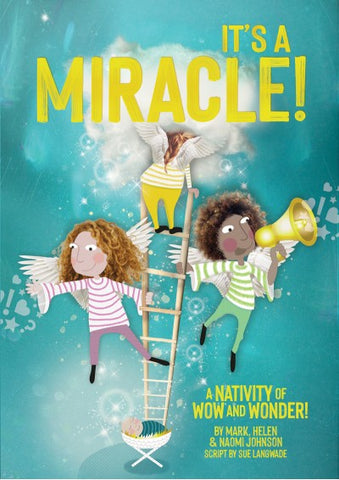 It's A Miracle! - New Nativity
By: Mark, Helen & Naomi Johnson, Script By Sue Langwade
With half the action set in heaven and half on earth, this brand-new nativity captures all the beauty and wonder of the true Christmas story, with just the right amount of humour. The story begins when we meet the 'Holy-gram' machine, a new and divine way for God to communicate. When the Holy-gram sends a very important message to the angels, they fly into a panic. How busy they will all be – there's just so much to do! 
Total Running Time: 44 minutes approx.
Sample Script: Sample Script
Cast List: Cast List and Staging Ideas and Cast Size Adaptations
Videos: Paper Nativity Crafts
This product includes a copy of the It's A Miracle! book and CD with music score, script, staging ideas, character list and more. Instantly accessible digital files (PDF + MP3s) are also included. An Annual Performance Licence will be issued with your purchase, allowing you to perform this nativity to a live audience, or to stream/record your performance. For more information on Performance Licences please click here.
Tracks
It's So Exciting! - Single Song

Good Luck With That! - Single Song

On A Journey - Single Song

His Father's Love - Single Song

A Starry Night - Single Song

Come Together - Single Song

It's So Exciting! (Reprise) - Single Song
Bundles