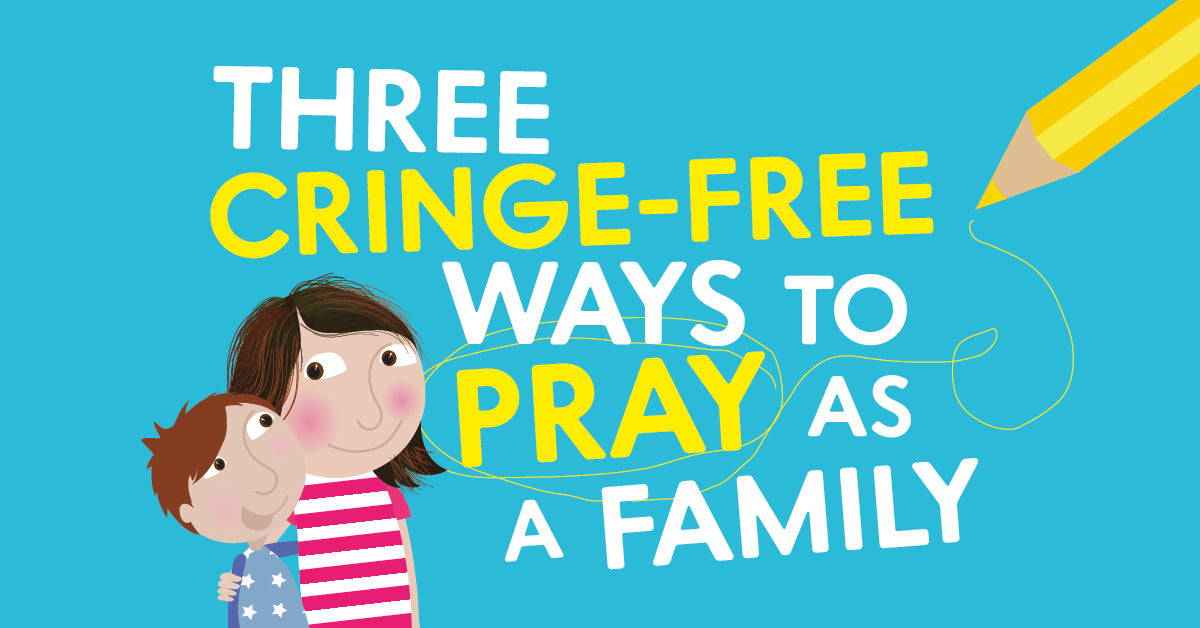 'What do you want to pray about today?' Cue uncomfortable wriggling, silly suggestions, moody responses and a failed 'Family Prayer Time'. Does this sound familiar? Don't worry!
We have recently launched a collection of Family Devotions to help families pray, read the Bible and worship God together. We've had some great feedback from these and it's been wonderful to see families using them to shape some God-focused time together. BUT, in doing this, we've also found that so many families struggle to get their children in the right headspace to give a family devotion a go. Then, when they do find the 'right' time, the children often aren't up for praying together as a family. We get it, and we want to say that your family isn't the only one that struggles to pray together. So, with that in mind, here are three cringe-free suggestions for how you can build prayer into your family life without awkwardness and resistance!
1. Make It Creative.
Have a go at this super-easy DIY prayer board.
If you have children who like to make and create, then this is a brilliant one for you. Prayer boards are a simple way of using prayer as an opportunity to be creative, showing that you can pray in a way that suits who you are. The process of writing their prayers and pegging them on the board helps children really think about what they want to talk to God about. It's also often easier to write something down than to say it, so this is also a great way of encouraging your children to open up and bring to God the things that may be difficult to talk about. I could go on about the awesomeness of prayer boards (the way they keep us accountable and persistent with our prayers, or how each pegged-up prayer becomes a record of God's faithfulness, and on and on) but I'll leave it to you to have a go at and see how it changes your family's prayer life!
2. Make It Physical.
Family walks have become a key part of life in recent months, particularly when our only time out of the house was the permitted 'hour of exercise'. People have found a new joy in walking or jogging together and this new habit has become a fantastic opportunity for informal family prayer times. By walking or running together, the intensity of stillness and eye contact is dispersed – you're focusing on where you're going and your body is active. These simple differences in the way you're interacting can open up conversation (how many times have your best conversations been in a car or on a walk?) and bring a lightness to the way you talk to each other and also to God. It also teaches us a valuable lesson – that prayer doesn't have to happen when you're still and quiet with your eyes shut tight. Prayer is for every moment of every day, inviting God into whatever you're doing and however you're feeling.
3. As Specific Questions And Let It Be Silly!
The best way to break up awkwardness is with humour, so when you ask what they'd like to pray for and the answer is 'The Hulk', just laugh along and let the silliness lighten the atmosphere. Getting frustrated or too serious will only associate prayer with tension and make it something they really don't want to do. I've found that specific questions, rather than a vague 'what shall we pray about?' are more helpful. Here are some suggestions: do you know anyone who is poorly that we can pray for? What did you enjoy most about today that we can thank God for? Is there a particular subject that makes you feel worried or stressed at school?
The spiritual growth and health of your children can feel like a massive responsibility. In fact, it feels so overwhelming, and with such high stakes, that it can put us off even trying. Thankfully, God is with you, and your children are also His children. Pray about your family prayer life, give some of these a shot and most of all don't give up. Nothing worth having was ever achieved without effort, so don't be disheartened if you feel like you hit a wall a thousand times over. Keep making space to pray with your children, and have fun with it!
Click here for Same Boat Music @ HOME for lots more family devotional resources
Same Boat Music is part of the Out of the Ark family, who's award-winning songs have been enjoyed by millions of children in over 18,000 schools for 30 years. We believe in the power of songs to inspire faith, celebration and what it truly means to live life to the full.
Packed full of truth, celebration and hope, these all age worship songs are identity-forming, community-growing, wonder-inspiring and undeniably catchy! Perfect for childrens worship and family worship. Read more about us here.