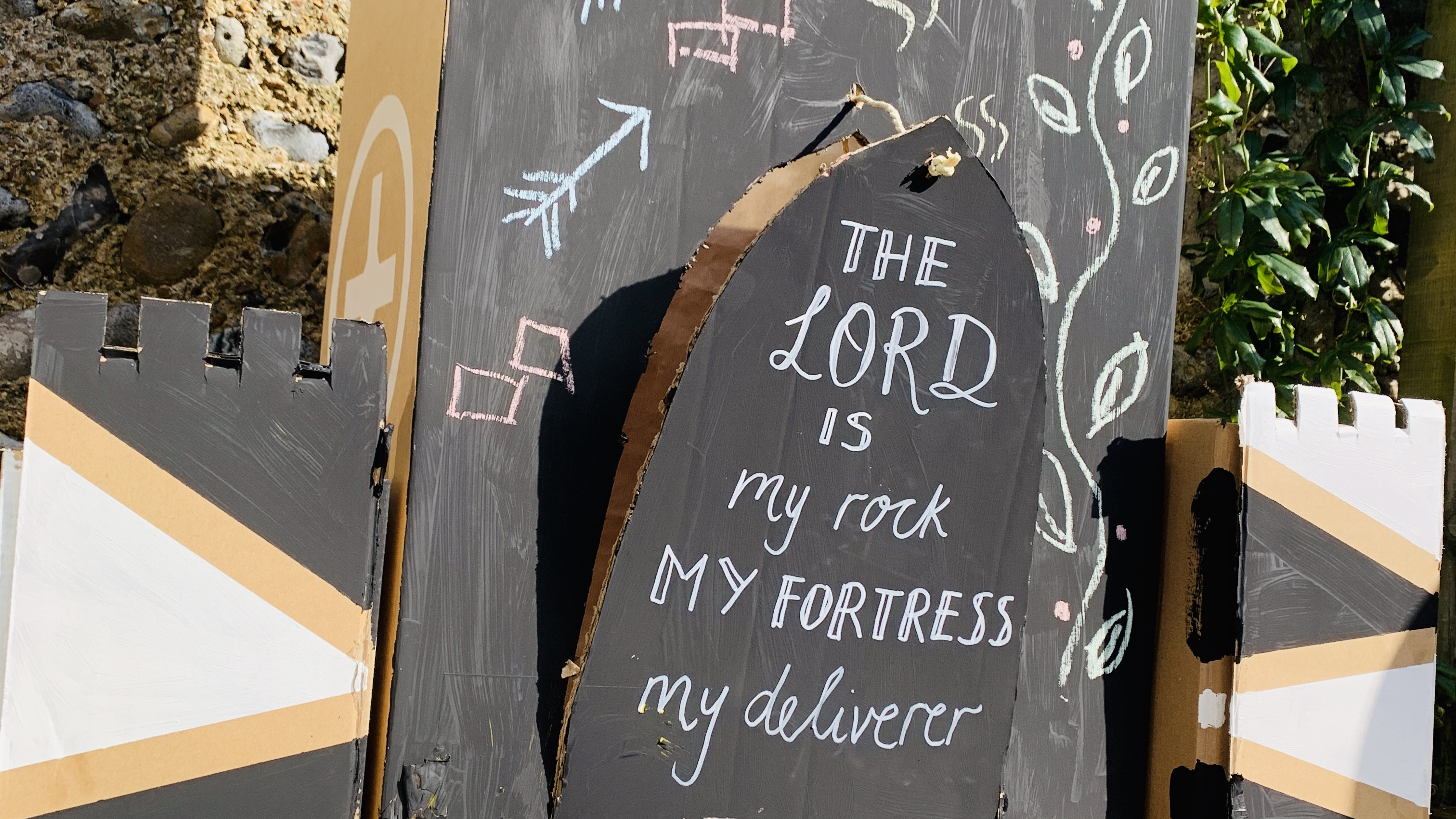 There's been so many posts on social media from parents who ran out of a week's worth of stay-at-home activities in just a few hours. So here's one that takes them time to make, time to decorate and offers endless play opportunities!
It's also a great opportunity to talk about God as our refuge - a strong place to rest and hide in (Psalm 18:2). This verse is particularly relevant right now when the world that we're all used to has changed dramatically. Remind your little ones that God is steadfast, strong and our place of refuge.
This cardboard and chalkboard castle is low mess and high entertainment. You will need:
Scissors
Tape
Cardboard
Black paint and brush
Chalks or pastels
If you want a messier outdoor version you can let your kids loose with the paint and brushes, or paint it all white and raid the house for felt tip pens. Do what works for your mess tolerance levels and work with what you can find!
Step 1: Use the biggest box you have to cut out a door and turret shapes. You can turn the boxes inside out to make them a blank canvas. We added a rope with a stick handle to make a drawbridge.
Step 2: Add smaller 'rooms' to the castle with any other boxes you can find (my son enjoyed the smaller bits just as much. His Spider-Man figure has never had such a grand abode).
Step 3: Paint the sides in black paint to create a chalkboard. I've used masking tape and white paint to add a really simple design but this is optional. To be as mess-free as possible you can paint this quickly while their little hands are busy with snacks!
Step 4: Get your chalks and pastels out and invite your kids to decorate the castle in any way they like. They could draw plants growing up the castle, arrows from the archers or princesses in windows! While they are decorating you can talk about Psalm 18:2 and write it on the castle as a reminder.
Step 5: Get yourself a cup of tea and put your feet up as their imaginations run wild! If interest dwindles you can encourage them to expand their cardboard empire with a moat full of wildlife or colourful castle gardens.
Today's song is all about the play potential of the humble cardboard box! So sing along here while you create and play together.
Click here for Same Boat Music @ HOME for lots more great worship songs and resources for children at home.