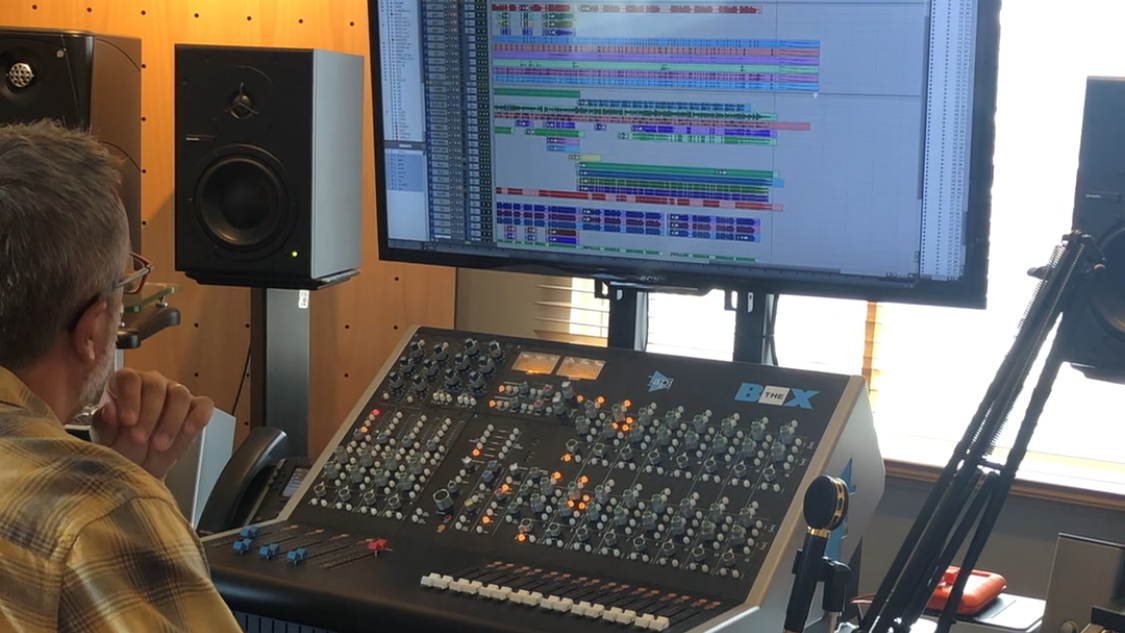 Good News! Same Boat Music is releasing a Christmas album! We are releasing a new Christmas album on 1st of November, and we're going to be offering it FREE for a limited time. We've done something a little different for this album and added adult voices to the usual children's voices. We're hoping this gives the album a real intergenerational feel and can encourage families and communities to sing together this Christmas time.
We've caught up with Andy Harsant, producer and arranger at Same Boat Music and Out of the Ark to hear how he helped put together the album.
Christmas music is a long British tradition. What does Good News! bring that's new?
…some new songs – well that's not strictly true because thousands of children have been singing some of these songs in schools for around 25 years! However, they have all had a 'brand new' treatment, and some new vocal arrangements with adults and children singing together, all in preparation for releasing them to absolutely anyone and everyone this Christmas!
Good News! features adult and children voices singing together, how do you think that impacts the sound?
It's a new thing for Same Boat Music to record both adults and children on a project. The songs on the album are all best-sellers from the Out of the Ark Music catalogue.
At Same Boat Music, we have been convinced for a long time that many of these songs can be heard and sung by people of every age, and Christmas provides an ideal opportunity to introduce you to a handful of our Christmas hits! We hope you will teach them and use them in your churches this year, and in years to come.
How was the recording process different from the usual children only recordings?
When thinking about how to approach this I was very keen to present these songs in such a way that it wouldn't seem that adults were leading, and the children just singing along, or the other way around. I tried to visualise everyone singing together and sharing the song, taking little solo parts at times, harmonising together and enjoying the excitement of collaboration. I hope these songs will be sung by whole gatherings or congregations of people, but equally they could be wonderfully performed and presented by an inter-generational choir.
What is it about Mark & Helen Johnson's song writing that makes their Christmas songs so popular?
They have an amazing knack of finding a catchy and unforgettable melody, and then constructing a set of lyrics with such strong content and meaning. That is a gift! And of course, Christmas offers such a wealth of possibility for new songs.
What's your favourite song on Good News!?
I like them all!....but if you were to push me I think I'd say that 'Unto Us A Child Is Born' has proved, time and time again, to be an absolute banger!
What impact do you hope this album will have on churches and families?
I'm thrilled we are able to provide churches with some fresh material to use over their Christmas programme. I hope that everyone will really enjoy listening, and singing these songs, and great memories will be created. Go on, give them a try!
What's your favourite Christmas song, outside of our catalogue of course!
OK, I have a few
Driving Home For Christmas – Chris Rea
When A Child Is Born – Fred Jay/Johnny Mathis
Sleigh Ride - Leroy Anderson / Mitchell Parish
O Holy Night – Adolf Adam – (Nat King Cole's version) (Mark & Helen's is pretty good too)!
Mary Did You Know – Buddy Greene/Mark Lowry
And many more....and pretty much every carol!
Good News! will be released on 1st November - if you'd like a reminder then join us on Facebook, or join our mailing list.